---
---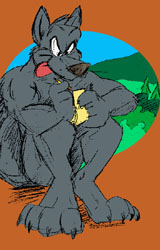 What is Rogue?
Rogue is a giant wolfmorph. By "giant", we mean that the last time anyone was brave enough to measure him, he stood just a few inches shy of 90 feet tall (ears not included). He is quite strong, as anyone that size is bound to be, but not necessarily all that bright.
What Rogue does:
He eats people. That is, he eats people when he's finished smashing their towns, which is one of his main hobbies. But he's a wolf, and wolves are carnivores. We must therefore be understanding of nature's sometimes cruel ways. After all, that's what insurance is for.
Rogue also writes. Well, he doesn't actually write the stories himself -- he can't read or write, having never gone to school, and being after all a wolf of very little brain. He has been known to dictate stories that little people like you have written down (often in exchange for their lives, but not always).
A collection of his stories can be found on Rogue's Story Page. Be forewarned, though, that these are stories told by a marauding giant predator with a vicious streak a mile wide; thus, their content might not necessarily have family appeal. They are also of a decidedly adult nature.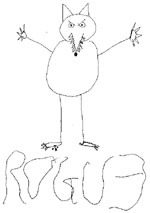 Rogue also does ART. Sort of. Well, he draws, or tries to, and frankly, nobody has had the heart to criticize him. Nobody who has lived long, that is. In fact, he has his own FURAFFINITY PAGE,where he showcases his own astonishing artwork. In addition to the works there, he has drawn a number of his friends, mostly on the sides of buildings:
Ken Cougar
Wolf Kidd.
Big Blue Fox (his first color work!)
Red Shetland (move over, Jim Groat!)
Nihon no Bisco-san
Duncan Roo
More...

Other things that Rogue does:
Even megawolves like to go down to the local drive-in and see a movie once in a while. Check out some of Rogue's favorite movie scenes.

At last they are making video games that megawolves can enjoy! First there was Rampage. You should have seen Rogue trying to move that tiny joystick with the tip of his finger and squinting at the little video screen. Now there's GIANTS: CITIZEN KABUTO. Kabuto is a giant marauding monster who seems to like to smash the little people who share his island. For a quick 10-second preview of what Kabuto is and what he does for a hobby, Click here! (Kabuto preview, 2.1 Mb mpeg).

Did we mention that he eats people?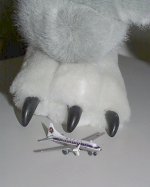 Does Rogue always eat people?
No. If he's not hungry, he just steps on them.
Once in a while, though, even a marauding giant wolf shows a gentler side. Rogue once told a heartwarming story about a lion named Nekobe, proving that even he can be sentimental when he wants to be.
People who have drawn Rogue
There are a few people who have managed to get close enough to Rogue to draw pictures of him. Some of them have even found a way to do this multiple times. Whether this is because they have some arrangement with the giant wolf, or just that they are very lucky people, we will never know. NOTE: The "images" section is no longer being updated. It is kept here for historical purposes only. Current images of Rogue can be found by searching the modern art repositories of Furaffinity and SoFurry and InkBunny. There's just too much to keep up with these days.
WARNING: Many of the images below (particularly those noted with the blue balls) are graphically violent, graphically sexual, homoerotic, or all of the above. This is Rogue, after all. He does what he pleases. Nobody can stop him. If you've got a problem with that, take it up with Rogue himself. We'll be waiting in that underground bunker over there...

denotes adult content. You have been warned.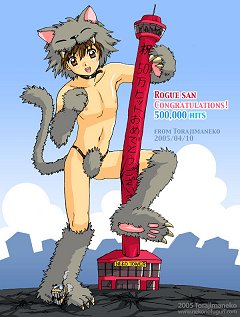 Click here for some more
gift images from Japanese friends

Where does Rogue live?
Rogue lives on FurryMuck -- specifically, he lives on FurryMuck's populace. Someone has to see to the overcrowding problem, after all -- although lately he has been seen more often on F-Chat. Here is what he looks like there:
Is it a man, or a wolf? Or is it something in between? Whatever it is, this creature is GIGANTIC, standing nearly 90 feet tall! He is built like a man, but covered with a thick coat of fur which is creamy white on his chest and belly, and fades to red on his sides and finally to grey on his back. His head is like that of a wolf, his body slender but muscular, and his feet something between feet and paws. His eyes, bright yellow pools of fire, shine down on you predatorily, and the slight curl of his lip gives him a permanent sneer which makes him look.....hungry.
Carrying:
tractor tire chew toy
BADGE: a black pawprint with a red human silhouette in the middle of the center pad
enormous BUTTON: You are what I eat.
If Rogue really exists, how come nobody has ever gotten him on video?
Oh, but they have! Check out Rogue's YouTube channel.
How do I contact Rogue?
You can look for his cave, but that would be insane because he'd probably eat you. It's much safer to look for him on Twitter or to send email to rogue-dot-megawolf(at)gmail.com (and of course, make the -dot- into a dot and the (at) into @). Someone will read it to him, and he may even send an answer back. He gets a lot of mail and sometimes it takes him a while to respond, so be patient.
Click here for links to other macrofurry sites!
---
---