---
This kind, primarily: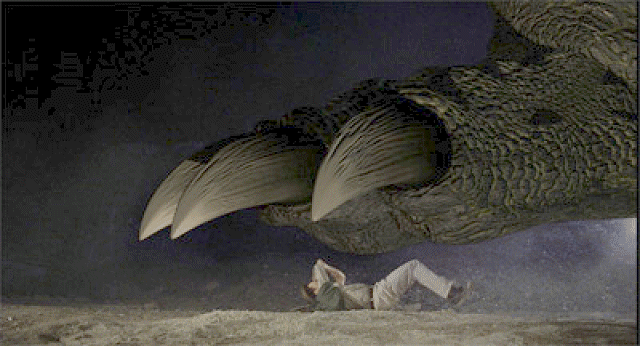 No drive-in theater is safe when Rogue is in town. That is, unless they happen to be showing one of his favorite movies. With some of these scenes playing across the screen, he's liable to just sit there quietly munching on his popcorn, giving the rest of the popcorn a chance to sneak out and live another day.
An all-time favorite of megawolves far and wide is the incomparable crowd-crushing scene from Dino Delaurentis's King Kong (1.25 Mb AVI). Never before and never since has a director shown us what happens when a callous giant simply walks through a fleeing crowd without a thought for the tiny creatures being squashed beneath his feet. Sure, OK, it's an ape, but we'll take it where we can get it, won't we?
Another recent favorite is the 1999 version of the Korean kaiju film Yonggary. It's not quite as intense on the carnage and destruction, but it does have something we've never before seen in a monster flick: a massive footprint with flattened human bodies dotted within. For a megawolf, that's just as good as Rhett carrying Scarlett up the stairs.
Of course, there's tons of other films too numerous to mention. It's hard to predict what will appeal to Rogue, other than to say that if it has a giant monster wreaking havoc on the human race, it's probably high on his list. He has collected a bunch of Realmedia clips of his favorite monster movie scenes, which we are offering here. Why Realmedia? Because it gives small files and Rogue doesn't like to eat up too much of Bennie's bandwidth. DIVX is too buggy, comes out with a new version every 2 hours and, as we've found, hasn't yet given us any files as small as Realmedia does. The disadvantage is that they may not be as high quality as you may expect, but then, this is just Rogue's own private collection. If you want to see better shots, we encourage you to either rent or purchase these films on your own and help to support the artists who made them. Maybe it will encourage them to make more!
The filenames are not very descriptive. At one point Rogue started trying to list descriptions for each file, but he quickly got bored and went out to chase some cars. Someday, maybe, he'll get back to it. In the meantime, those who are "in the know" should be able to get at least an idea of what they'll see from the filename.